Teameleven is a project initiated in November 2010 by a group of Berlin architects. Using their small yet innovative practices as a basis they wanted to address large scale urban development issues facing Berlin, and the role that architects could play in dealing with them.
Teameleven met with politicians, sociologists, and journalists in a rapid succession of informal discussions. By sharing their experience, they adapted the solutions they had been experimenting with as individuals to meet larger challenges. In interviews and contributions to both the popular press and professional journals, Teameleven has been questioning the city's sale of public land, and demanding that the city re-evaluate its needs before the last free spaces are sold.
From their discussions, Teameleven developed a list of 22 concrete policy proposals to improve urban planning and social housing policy in Berlin. In September 2011 during Berlin's election campaign, Teameleven held a public discussion of the 22 points with politicians from the three main parties. Berlin's new government has already implemented significant positive changes to their urban development policy.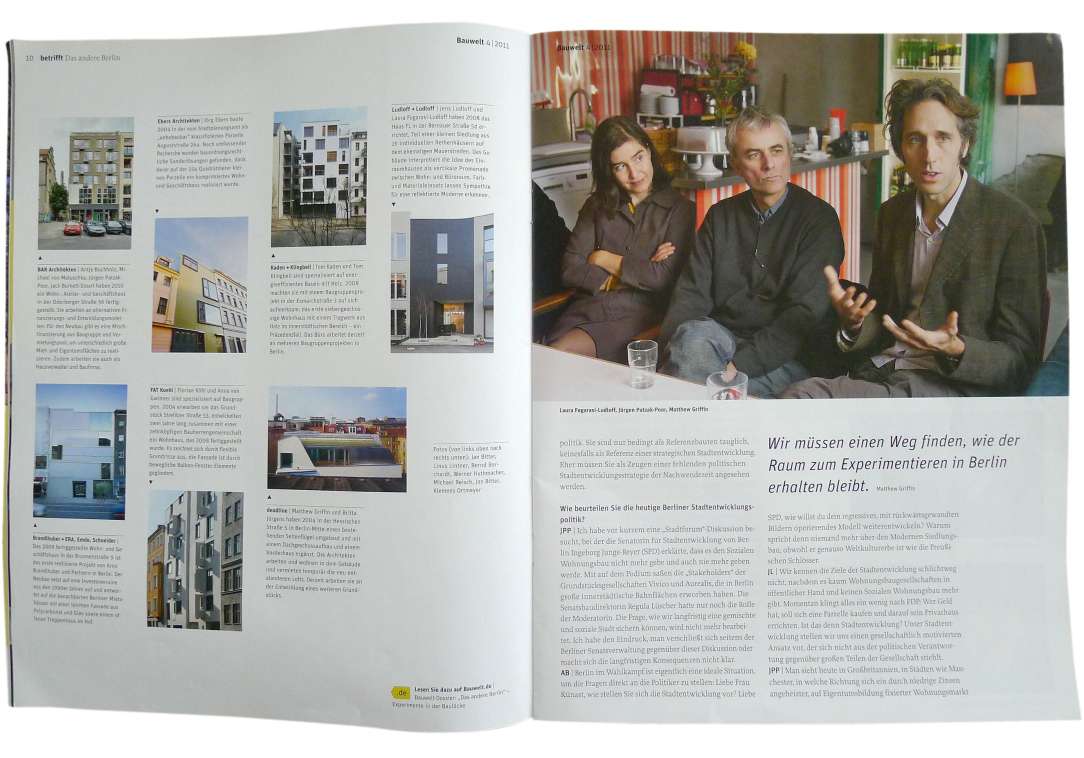 In their work as individuals, Teameleven has produced a series of case studies. These buildings describe a future Berlin, beyond temporary use. As a collection these buildings serve to illustrate Berlin's potential, with buildings that reflect and support Berlin's specific identity.
The current development cycle bringing to a close a 20-year period of famously low rents, urban gaps, and temporary use. As citizens protest against gentrification, dangerously high rents, and top down urban planning, Teameleven proposes constructive alternatives to the established tenets of Berlin's urban development policy.
The Teameleven project is:
BARarchitekten; Brandlhuber+; deadline; Ebers Architekten; FAT KOEHL ARCHITEKTEN; ifau; Jesko Fezer; Andrej Holm; Kaden Klingbeil Architekten; ludloff+ludloff Architekten; realities:united; Nikolai von Rosen; Christian Schöningh