Deadline transformed a former East German day-care center into a new youth centre, in six stages from 2004 to 2008, operating under an extremely tight budget.
The Jugendhilfezentrum houses the local youth authority and a mix of other youth therapy organisations and sports facilities. It is located in Hellersdorf, a socially depressed area on the eastern outskirts of Berlin. The structure, built with prefabricated concrete panels, was a typical example of East German building in the period from the 1970s until the fall of the wall in 1989.
Usually when East German buildings are renovated, they are disguised as something else. The act of disguising these buildings can show lack of respect for the value these buildings had to the generations who grew up in them. In the former GDR, the prefabricated buildings were considered the most desirable apartments and they continue to represent a society's concerted effort to provide housing for all.
Therefore instead of disguising them, the architects preserved them, but transformed the facade by tracing the junctures between the panels with an abstracted joint. This new shiny stainless-steel joint mirrors the sky and creates beautiful reflections during the day. At night integrated LED strips transform these joints into a system of large pixels which can either be used to write primitive messages or to create abstract patterns with huge letters of light. The controlling system behind it is easy to program, and the neighbourhood youths are encouraged to use it instead of a spray can to get their messages out to the world.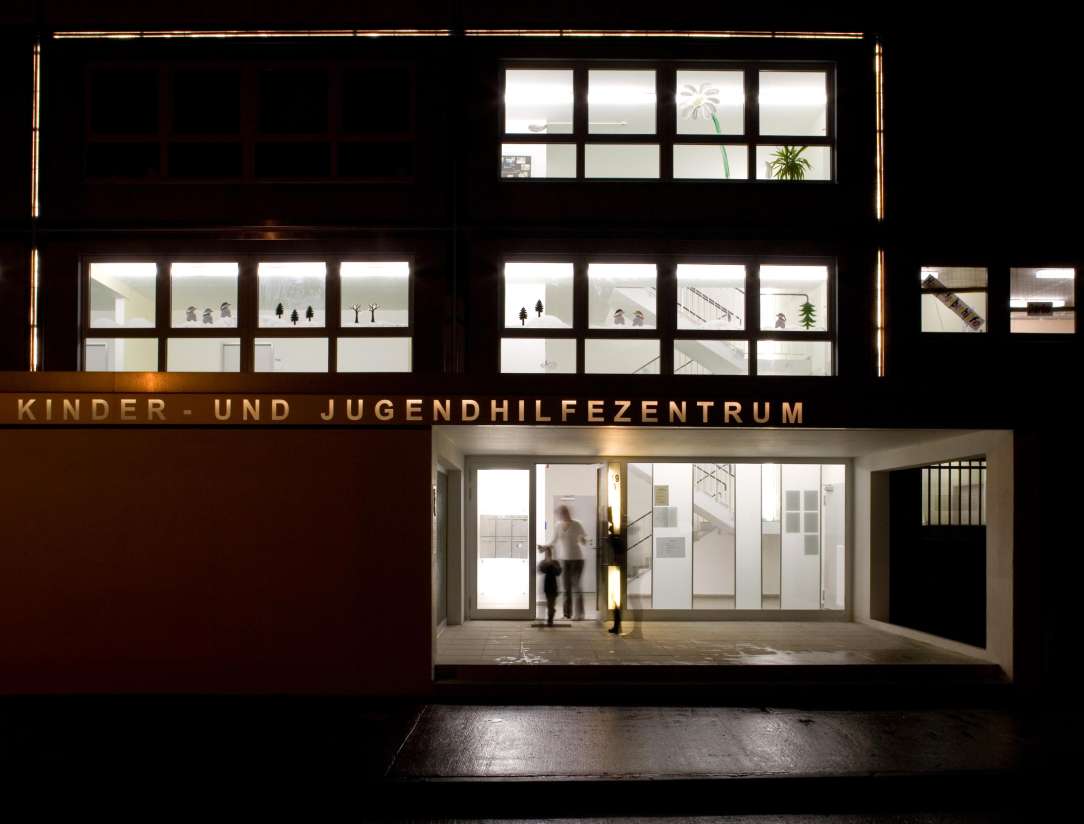 In the interior Deadline reorganised the building along a wide central corridor which extends the length of the building along the street façade. This corridor works as a waiting space, a social space and a circulation space. It creates a spacial aesthetic of great clarity and openness throughout the whole building.
On the exterior, this particular building was a well-preserved example of a prefabricated GDR building. Its panels of exposed aggregate concrete were all in good shape and adequately insulated. The goal of the renovation was to preserve the identity of the prefabricated building, and at the same time send a signal of its transformation to awaken the depressed neighbourhood.
Facts
Site:
Peter-Huchel-Str. 39/39A, 12619 Berlin-Hellersdorf
Floor area:
1900m2 
Budget:
€1,200,000
Architects:
Deadline
Team:
Britta Jürgens, Matthew Griffin, Stefan Bullerkotte
Client:
Jugendamt Marzahn-Hellserdorf
Construction:
10/2004 – 06/2008